BIO DOMUS D.01: Sustainable Eco Home Santa Ana, Costa Rica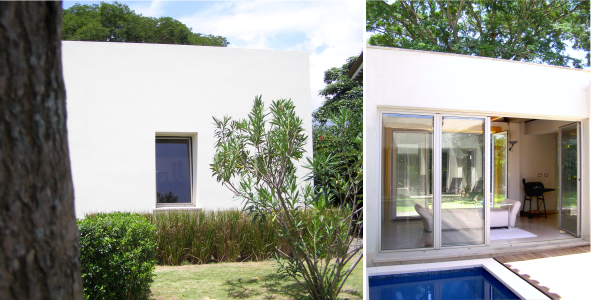 Bio Domus D.01 is a bioclimatic and eco-friendly house, designed to provide comfort, elegance, and well-being.
Located in Santa Ana, Costa Rica's Central Valley, this open, welcoming and dynamic home has been designed with special attention to well-being and habitational comfort. A unique project that implemented the use of refined and eco-friendly materials (like wood and clay) together with ancient rules of "good construction" and innovative constructive systems and techniques that guarantee a healthy building with high-quality standards, with effective protection against dampness and the earth's radioactivity, typical to this location.
The Bio Domus D.01 projects formed by two wings: in the ground floor it's the spaceful living space, that rotates around the inside patio with its pool and looks towards the wide garden space; in the first floor are the rooms, which can be accessed through a bright corridor characterized by its centerpiece: a modern staircase made out of steel and tropical wood.
The wide living room is enclosed in large glass windows. The planning of spaces and their orientation, the study of a suitable light and ventilation coefficient, the choice of neutral colors and non-toxic materials, are just some of the elements that characterize the project's pursuit of a new concept of quality of life.
With minimalist nuances, the Bio Domus D.01 project is characterized by the white purism and clean lines, grand wooden that outline both the living and private rooms. A spacious and bright house that strives to entice the gazer with a depth of view and multiple sights to admire, designed for the well-being of its dweller, with passive control systems, like the double-wall and the micro-ventilated roofing, that achieves to maintain the optimal temperature and comfort of its interior.
Bio Domus D01 was published by the Chilean magazine MásDeco as a project of reference in Latin American building for green architecture, as well as being proudly selected for publication in the book by Harper Collins "150 Best Sustainable House Ideas" in 2014 as a project of a sustainable and healthy house. Read more.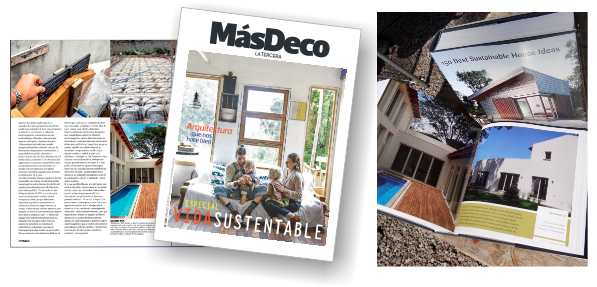 Share on
Concept
Open, Dynamic, Modern
Bio Domus D.01 is the pleasure of living the house in its simplicity: essential and minimalist. Wide open spaces, characterized by the use of natural materials and neutral colors. A project for a new philosophy of living quality.
Project technical sheet
Location: Santa Ana, Costa Rica
Year: 2012
Building area:
460

 sqm
Lot Size: 1035 
sqm
Type: single-family | 4 bdr
7 Green Plus
Bio Domus is a
Sustainable Architecture Project.
| | | | |
| --- | --- | --- | --- |
| | | | |
| Healthy Housing | Bioclimate | Water Recycling | Ecological Footprint |
|   |   |   |   |
| | | |   |
| Recycle Reuse | Renewable Energy | International Standards |   |