Partners:
Profilati.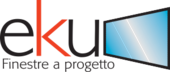 Eku: Versatility and completeness. Innovation and safety.
Windows designed to last in time.
The Eku systems of aluminium profiles provide all the advantages of an innovative technology: from the widest freedom of design to the production of windows with perfect response to resistance requirement, air and water proving, wind and burglar resistance. High thermo-acoustic insulation, guarantees the reduction of energy consumption due to heating and cooling with a consequential economic and environmental advantage, complying with energy saving regulations.
Choosing  Eku implies selecting the comfort, functionality, elegance and safety of a versatile and  comprehensive system, able to satisfy any applicative requirement.
Quality and technological innovation make Profilati an exceptional partner, both for the professional expert and the private individual, being able to offer a variety of turnkey solutions satisfying any requirement and making even the most ambitious projects come true.
Partners of Excellence
In collaboration with business partner teams, we offer market solutions targeted for every architectural need:
Bio-Architecture area
Life-Style area