Life Style Partner:
Spazioquadro.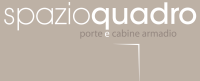 A door: an expression of our personality and desires to enjoy and love every day.
Agatha Ruiz De La Prada, a leading figure in the fashion and design world, redesign the door with character and color. Six silk-screen printed or raised motifs, lots of coloured lacquers, endless possibilities: this is the Viva door collection by Spazioquadro designed by the famous designer.
Spazioquadro is a young and dynamic Italian brand that makes its debut on the international market with a high-quality and innovative project, for doors and walk-in closets. A complete line to dress your home or office in a new style, or to design made-to-measure contract environments in total freedom.
Partners of Excellence
In collaboration with business partner teams, we offer market solutions targeted for every architectural need:
Bio-Architecture area
Life-Style area